Why you should consider doing a Master En Suite Addition?
Master suite additions are one of the most popular home additions today — and for a good reason. Today's master bedrooms are trending towards larger, more luxurious rooms. They often have their own bathroom included, as well as plenty of other unique features.
If you feel like your bedroom is too small, you want the convenience of extra storage or you'd like an en suite bathroom with spa-like amenities, a master suite addition may be the solution you need. When you're planning a master suite addition, there's an endless variety of special features that can make your space more comfortable, spacious and personalized to your needs. Here's everything to know about planning a master suite addition.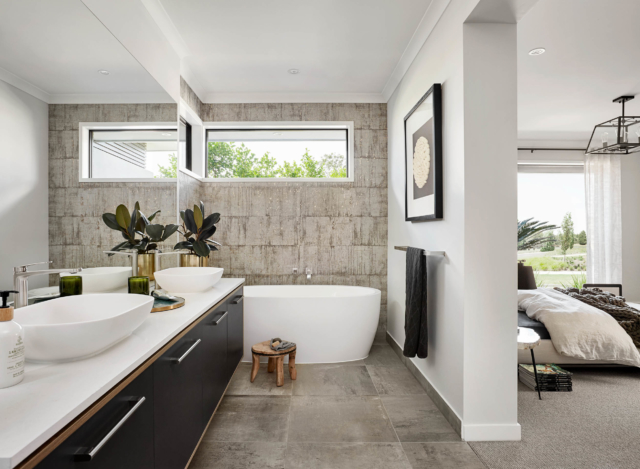 What is a Master en Suite?
If you've researched a master suite addition, you've likely come across the term "master en suite." This mashup of English and French phrasing has become the gold standard in master bedroom planning. The original meaning of "en suite" is following or afterward. However, when used in this way for homebuilding, it means connected or in the room.
The most basic definition of a master en suite generally means a bedroom with a bathroom inside or connected. But many masters en suite go far beyond the basics and can include luxurious materials and special features. It's usually implied that a master suite is larger than the other bedrooms of the house and often has a larger bathroom attached. They may also have large walk-in closets, an attached patio or balcony, a sitting area, bar or coffee area and more.
Why Plan a Master Suite Addition?
There are many reasons that master suite additions are so popular right now. First, they can increase the value of the home, with homeowners seeing a significant return on investment (ROI) when it's time to sell the home. But many homeowners report that having a master suite increases their enjoyment and satisfaction with the home, which can be even more valuable than ROI.
A master suite simply makes the bedroom feel more luxurious, and it adds plenty of convenience and privacy for the heads of the household. If there are children in the home or frequent guests, there's no need to share bathrooms or worry about stumbling down a dark hallway in the middle of the night and waking other members of the household. Adding other features besides a bathroom means you can have whatever you want right in the comfort and privacy of your bedroom.
Things to Consider When Planning Your Master Suite Addition
When you're ready to start planning your master suite addition, there are many things to consider. These tips can help you organize your ideas and priorities and get the master bedroom addition you've always wanted:
DECIDE ON THE LOCATION FOR YOUR ADDITION
Before you start planning any details and building your addition, one of the first steps is to think about your options for where the new room can go. Perhaps you have a bedroom with room to expand, or maybe you'll need to add a whole new area to the house. In this case, you'll want to think about the ideal location for the addition. Determine where you may have space to expand, and whether you may lose out on front yard or backyard space.
You'll also want to think about where the master suite will connect to the rest of the home. For example, you may not want your new bedroom to connect directly to your kitchen area. Also consider issues like privacy or the view from your bedroom windows and think about which direction you'd like your new room to face. Your architect can take all these considerations into account, present your best options and help you make this important decision.
One of the most important aspects of the location is deciding between a first-story addition and a second-story one:
First-story additions: Adding on to the first story of your home may take away more yard space and will require a slab or foundation of some kind. These types of additions may be the easiest to build and the least disruptive to your daily lives in the house during construction.
Second-story additions: A second-story addition could potentially preserve more of your yard area, but it is a larger construction project. It can require strengthening the existing structures of the home, including the rooms underneath the new bedroom. The existing roof structure will be removed and reshaped, and other elements such as HVAC systems, electrical wiring and plumbing may affect the walls and ceilings of the rooms below.
IDENTIFY YOUR PRIORITIES FOR THE MASTER SUITE
As you plan your master suite, you can truly design the room of your dreams with any special features you can imagine. Master bedrooms are deeply personal spaces and can be customized to your liking. Consider these details as you organize your priorities for the room:
Storage Space: Think about closet spaces — do you want a large walk-in closet? Or do you want separate closets for you and your partner? How about an extra closet in the bathroom area for towels and supplies? Think about any additional shelving or built-in cabinets you may want in the suite.
Setting and placement of the room: Will you be able to utilize beautiful views for your new room? Will you have a patio or balcony attached? Your designer can use these aspects to ensure your room maximizes the best views and natural light exposure.
Privacy: The level of privacy you desire can inform where you should locate your addition, as well as how to orient the layout of the room, and place windows and doors. Consider your proximity to neighbors' homes and how busy your street is. Skylights can bring in natural light if you aren't able to use large windows. Additionally, consider if you prefer a more open concept space or more private areas in the suite. Separate toilet and shower areas can add a sense of comfort and luxury, too.
Noise issues: You may want to utilize noise-reducing features in your suite if you live in a busy area or if the room is constructed above other rooms in the home.
Doorway styles and sizes: Think about the types of doors you'd like in your space. You may need additional doors if an outdoor patio or balcony will be a part of the design, as well as doorways to bathrooms and closets. Wider doorways are useful for moving in larger furniture, as well as accounting for accessibility concerns.
Furniture: If you already have furniture you want in the space, think about its size and placement in the room. Make sure your design has room for your furniture, especially if you have special or larger pieces. Your designer can incorporate your furniture into the design so everything fits in the room the way you want it. Consider the placement of electrical outlets too, especially if you have any unique lighting ideas or other elements like a television or stereo equipment you'd like in the room.
Maintenance: As you choose the materials and special elements for your master bedroom, consider the levels of maintenance and cleaning you're comfortable with. For example, custom tile work or stone countertops may be more difficult to clean. Carpeting instead of hardwood floors in a bedroom may be harder to clean and not as durable. Consider whether your priority is to have a particular look or something that's easy to clean and maintain.
CONSIDER ANY SPECIAL NEEDS
You want your new space to be welcoming and accommodating for you and your partner. Consider your height when planning things like countertops, shelving, and special fixtures. If there are any special health concerns or mobility issues, you'll want to factor this into the design of the room. A professional designer can work with any special needs to make a room that works with your needs and abilities.
DON'T FORGET ABOUT THE EXTERIOR OF YOUR ADDITION
It's easy to get caught up with how the interior of your new master bedroom addition will look and to overlook the exterior features of the project. You may have noticed a home before with an obvious addition that doesn't blend as well with the rest of the house. Any type of new addition to a home should blend in with the design of the home.
With this in mind, consider how the outside of your home will change with a new addition, even early on in your planning process. Think about the physical space the new addition will take up and where it will be located. You'll also want to consider how the roofline may change and how that affects the overall look of the home.
The exterior details can make a bigger difference than you might think when it comes to blending the addition into the rest of the house. This can include doors, windows, siding or façade options, exterior trim, roofing styles and materials, and any other exterior features you use. You'll want to match all these elements to the original structure and style of the home — or at least choose colors and styles that make sense and blend in with the whole home. When you work with an architect or professional design-build team, they can help you choose an appropriate design for your addition and present the best options.
CONSIDER INTERIOR AND EXTERIOR DETAILS AND LUXURIOUS UPGRADES
Master bedroom addition plans can be very personal and give you the opportunity to customize the bedroom suite of your dreams. In the planning stages, think about what your top priorities are for luxury items and fixtures, as well as what your space and budget allow for. There are many options available for your new space, so it's a good idea to figure out which items are must-haves and which would be nice to have if they fit in.
Consider these details for your new addition:
Flooring: The options for flooring span a range of styles, materials and budgets. Hardwood flooring is popular for bedrooms. Custom tile work is a luxurious and beautiful upgrade for bathrooms. Heated flooring in the bathroom is another option that provides the ultimate in comfort.
Storage upgrades: This can include walk-in closets, dual closets and built-in shelving or cabinet work. Stone countertops on cabinets give a luxurious touch.
Bathroom fixtures: Consider bathroom upgrades like dual shower heads, a walk-in shower, rainfall shower, built-in shower features like benches or niches for storage, separate bath and shower, a free-standing bath, jets in the bathtub and more. Dual sinks or dual vanities are also nice upgrades.
Smaller details: Some of the smallest upgrades can make a master suite feel more luxurious. This could include the door handles, knobs and pulls on cabinet doors, plumbing fixtures, mirrors, lighting fixtures and more. You may want to consider adding a towel warmer, steam feature or other spa-like upgrades. Even the shower drains can be made more beautiful and luxurious with a linear drain instead of the standard.
Entertainment and convenience: Many homeowners enjoy features like a private bar area, fireplace, or built-in entertainment systems for watching TV or playing music in their master suite. You can customize your room to your preferences, creating the ultimate retreat for relaxation.
Architectural features: Consider adding unique architectural embellishments to your room like a tray ceiling including uplighting, crown molding or interesting trim. You may also want features like French doors, Palladian windows, skylights or other uniquely designed windows.
Patio Access: An undeniable luxurious feature in a master bedroom includes doors that lead directly to an outdoor space that has a sitting area to view the sunrise & sunsets or just to enjoy your morning coffee.
WORK WITH AN EXPERIENCED DESIGN-BUILD TEAM LIKE INCREDIBLE HOMES & RENOVATIONS
While it's a good idea to have your own ideas about what you want, one of the most important tips is to work with expert designers and builders from the start. A quality design-build team like Incredible Homes & Renovations that can help you every step of the way, from ideas and planning to construction.
For any addition project, there may be zoning laws, building codes or other special considerations like height allowances, historic preservation area rules and space allowances between buildings. Professional architects, designers and builders can navigate these issues with ease, ensuring your project meets all local standards while providing the master bedroom floor plans of your dreams. These professionals can also help you understand what works with your existing home and determine the appropriate amount of space to fit in all your desired features.